Corporate card "Visa Business"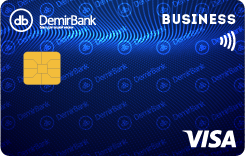 Corporate Card "Visa Business" - is a credit card, which is specially issued for the company for further effective method of cost management.
"Visa Business" Corporate card will make for our customers the processes payment for business trips, representative and business expenses very fast, safe and profitable.
Also, one of the weighty advantages of "Visa Business" card usage is 0% within 35 days for using credit limit during the grace period.
General terms
| | |
| --- | --- |
| Card account currency | KGS |
| Card validity period | 3 years |
| Card issuance fee | 500 KGS |
| Cost of maintenance | 1 500 KGS per year |
| Minimum card limit | from 5 000 KGS |
| Money ensuring | Credit card limit + 10% |
| Interest rate | 30% per year |
| Grace period | Up to 35 days |
| Protection by electronic chip | yes |
| Installation of overdraft limit | yes |
| Issuance of additional card | yes |
Global Customer Support Services VISA 24/7 (emergency cash withdrawal)
Global Customer Support Services VISA 24/7 (emergency card release)
Medical and legal help service
SMS-notifications / notices by e-mail
The project "Visa Money Fund"
Emergency services if losing / stealing the card