Internet Banking "View Option"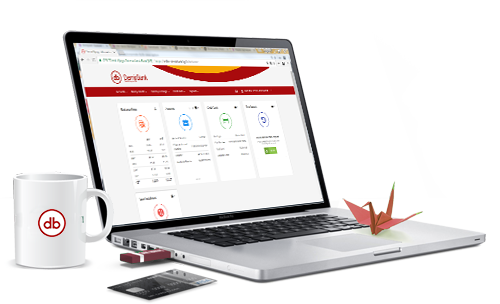 The option Internet-Banking in "Display Mode", provides you with the informative access to your accounts at DemirBank from worldwide.
OPPORTUNITIES:
check balances and account activities in real-time
print out the history of cash/funds
obtain information on Bank' exchange rates and the official exchange rates of the National Bank as of required date
subscribe to electronic mailing of account statement/s.
---
E-token - keychain ensures additional security, generating one of the access passwords to the system each time again (paid once when you connect to INTERNET BANKING) – you can connect by the application to the Bank.
or
One-time SMS password (OTP) – the new 4-th decree security level to enter the Internet-Banking. OTP is generated automatically at the time of entering the Internet banking you receive SMS message with a 6 digit code to your cellphone number registered in the Bank.
Now you do not need to change the access passwords to the Internet Banking upon the system request!
From October 1, 2015 the access to the Internet-Banking in "Full mode" is not available without the use of one-time SMS password or password of E-token.
1 step
Open a banking account in any branch of the Bank
2 step
Sign the application form for free Internet-Banking, then you will receive an envelope with passwords access to the system, or purchase E-TOKEN.
3 step
Start using the system and save your time.