DemirBank VISA CARDS - YOUR FINANCIAL CAPACITIES ARE UNLIMITED
For the customers convenience DemirBank offers the credit cards that allow cardholders to purchase goods and services at the expense of the credit limit provided by the Bank
The customer is not required to apply the Bank for credit arrangements and confirm its purpose, a credit card allows to use money for necessary needs.
A SIGNIFICANT ADVANTAGES:
The bonus program applies to all credit card holders of Visa Classic, Visa Gold, Visa Platinum cards issued by DemirBank and operates in a wide network of POS terminals of the bank.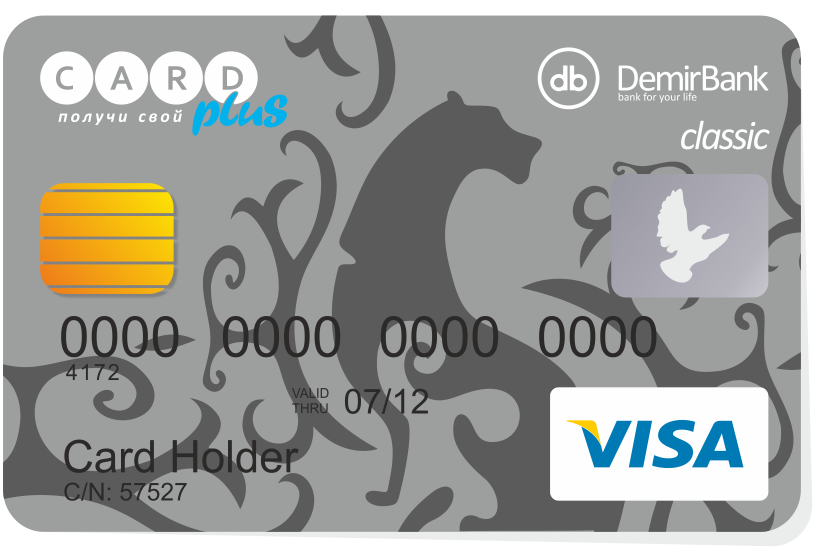 VISA CLASSIC CARD
International Visa Classic — card is the most widespread Bank card intended for transactions. The settlements are carried out due to the credit limit set by the Bank.
---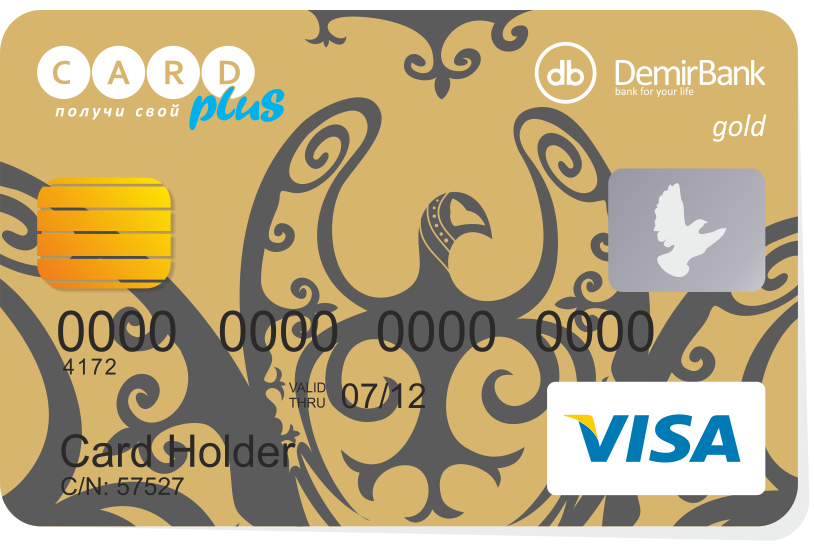 VISA GOLD CARD
International Visa Gold — card is your confidence at any time, wherever you are!
The Gold card will emphasize your high status and give you the privileges unavailable for users of more simple cards, discounts and special offers worldwide, priority service and individual approach, as well as an increased level of protection for you and your funds.
---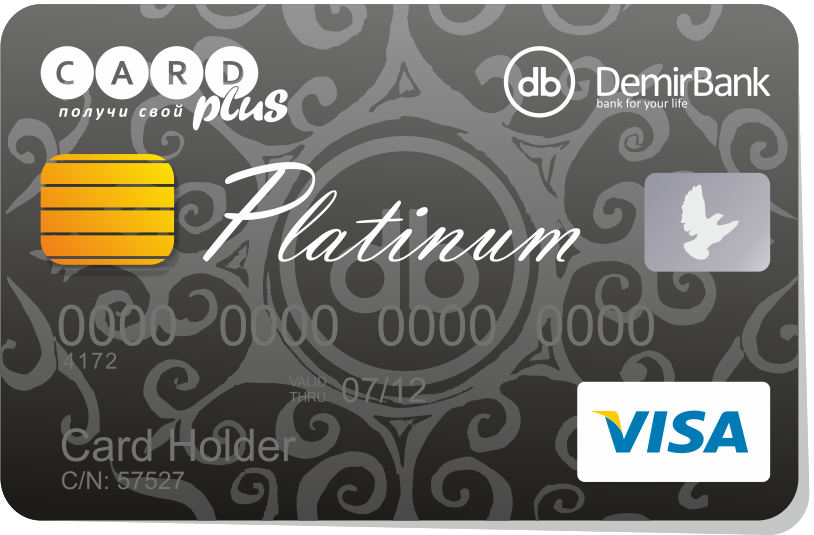 Visa PLATINUM CARD
The International Visa Platinum card– is a fundamentally new level of service. Daily activities, rest and travel becomes easier and more enjoyable. You will get access to many privileges and special offers worldwide.
With the Visa Platinum card from DemirBank you will get an additional financial flexibility which aims to help you to realize your dream.
Being a Platinum card holder you demand specific requirements to the quality of the vacation organization and travel
Emergency services: block of lost / stolen cards, emergency card replacement, and emergency cash withdrawal;
The program «Protection of purchases»
Medical and legal support (ISOS)
Program of premium offers
SMS/email notifications
Visa Classic
Visa Gold
Visa Platinum
Currency of card account
KGS
Card validity
5 years
Annual maintenance fee
KGS 800
KGS 1 500
KGS 6 000
Annual card maintenance fee for "DKIB" salary projects' staff for first year*
free of charge
Annual card maintenance fee for "DKIB" salary projects' staff for the second and further years
KGS 800
KGS 1 500
KGS 6 000
Minimum limit for card
KGS 5 000
KGS 60 000
KGS 500 000
Limit for "DKIB" salary projects' staff
up to 70% from salary
-
Cash collateral


( "DKIB" CJSC salary projects' staff – not required)

Credit card limit + 10%
YEARLY interest rates for the use of credit limit at cash withdrawal via ATM
30%
Monthly interest rates for non-cash payments via POS terminals and Internet
0%
Grace period of credit
up to 35 days
Possibility to issue additional credit cards
yes
*for the first and second years for customers of state organizations under salary projects of "DKIB" CJSC – free of charge